Day 17 - arriving to Ao Nang (Krabi province)
A sign in the restaurant in the guest house said that the kitchen opens at 07:00, so we got up early in the morning and went to have breakfast. There was no one there except a young guy sleeping on the floor. We waited until 07:40 when a girl who could assist us check out finally came along with the laundry woman. It turned out that she finished doing our laundry and the clothes looked and smelled ok. The bill we got was about 1700 bahts for 2 meals, coffee and the laundry, and even though we were certain we were being robbed, we decided to give it up and let them enjoy the doubt, since we didn't have much time to catch the ferry.
Meanwhile it started raining again, and when we wanted to enter the car it turned out that there wasn't enough place in it for all of us. Yelling and arguing with them didn't help us, and we had to sit in the back with our bags in the rain. We felt they screwed us since they found out we were Israelis (which isn't so hard to see) or because we decided to leave early, but one thing is for sure - they have no concept of what customer service is. If you know that you don't have enough place in your car and it is raining you need to take you customers in two groups, you can't tell them "we don't have money for 2 cars.. we are not rich".
The cruise to Krabi was peaceful since there were no traveling agents on the ferry like on the ferry from Phi Phi to Lanta.
Since there is nothing special to see in the city of Krabi we decided to go directly to Ao Nang. We drove there in a taxi which had a lot of flags in Arabic in it. On the way to Ao Nang, the driver stopped in a gas station, received some money from people there, got back to the taxi, locked the doors and started driving like a mad man. Obviously, we started imagine all kinds of kidnapping scenarios in our minds, but it was just a paranoia which resulted from our poor experience in ko Lanta and the bad mood it gave us.
When we got to Ao Nang and had breakfast we split up - Tomer stayed with the bags while Einav and Oren searched for a place to stay. Most of the hotels and guest houses in the main street were either too expensive (a few thousand bahts) or too small for us, so we decided to go and continue our search in the promenade.
Luckily, we found a place in a guest house called "Southland House" which was owned by a nice woman and was located in the second row of buildings in the promenade (behind the restaurants and shops, and about 20 meters from the beach). The room was big and clean with a refrigerator, a satellite TV and air conditioning and cost us 700 bahts a night.
After resting for a while, we went to the beach and the promenade which were in our opinion a lot nicer than the beach in ko Lanta. We ordered a full day kayak trip to Ao Thalan for the next day, from a company called "Krabi Seacanoe" which is located in the beginning of the promenade. The trip cost us 800 bahts per person for the same course that other companies in Ao Nang charge 1300-1500 bahts for.

Day 18 - Ao Nang - kayaking
In the morning we ate a good breakfast in "Wanna's restaurant" and were surprised to hear a song of an Israel singer playing in the restaurant's stereo. An Australian couple joined us and we left in the back of a pickup truck. Gladly, it wasn't raining and the view was magnificent: all around us there were high cliffs, rubber trees and pineapple plantations.
We got to a small village in Thalan where we split up to couples and headed on our way, kayaking between the mangroves enjoying the low tide.
The scenery was very impressive, and the guides led us in the opposite direction of the other tourists, which meant we saw only a few other tourists during the day.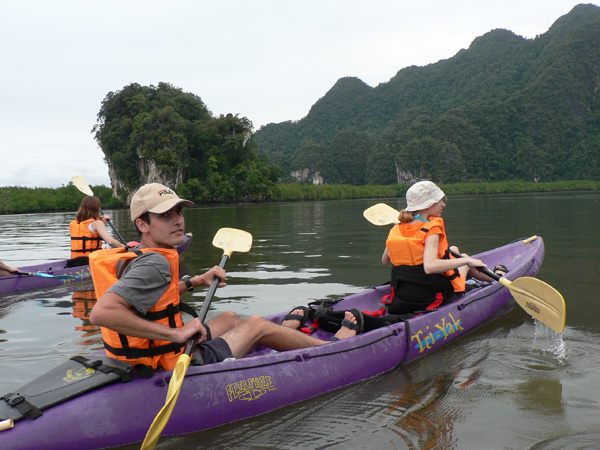 When we first saw a monkey, we thought we were very fortunate and immediately took out the camera. The guides sliced up a watermelon and threw the slices to the monkey and on the other kayaks. The monkey cooperated with them, swam, dove and jumped on the kayaks. Tomer thought to himself that not only the monkey deserved something to eat and took a candy bar out of his backpack. The agile monkey saw that, and tried to steal his candy bar but failed to do so. Finally, the monkey sat on the end of a kayak and ate watermelon until it was full, left us and returned to the mangroves.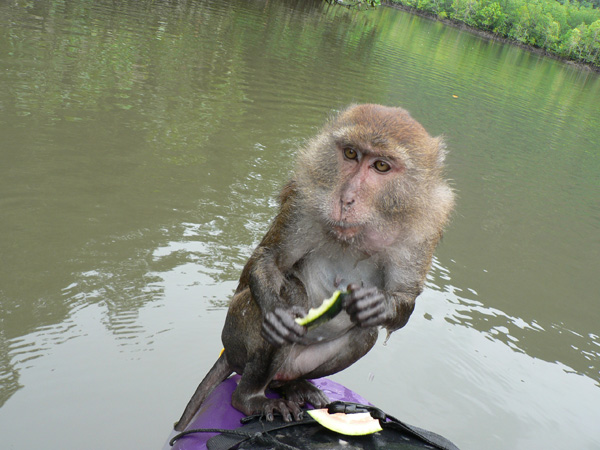 Later we saw that there were a lot of monkeys there, and that they were jumping on the kayaks and walk among the tourists freely. We continued kayaking between the cliffs until noon, when we stopped in a little bay to have lunch. When we finished eating, some monkeys came up and gave us another show. In the end of the trip we went to a sweet water fountain whose water flow to the sea and mix with the salt water, which makes them get a unique color. We had bad luck again, and since it was Saturday the place was full of local people which were making a lot of fuss. We thought we shouldn't leave Thailand without fishing there even once, so when we returned to Ao Nang we made a deal with the same company, to go fishing for a full day on the next day. We paid 1200 bahts per person which was expensive, but still cheaper than in ko Lanta.
We finished the day by eating pizza (with pineapple of course) and some fine banana lotty we bought on the promenade.

Day 19 - Ao Nang - fishing
Early in the morning we grouped up with the Australian couple and headed towards a bay where the fishing boats were docking. We saw a boat with 4 fishing rods and were happy because we assumed this meant one rod for every one of us (the Australian girl didn't plan on actually fishing).
The two Thai guides loaded some pineapples on the boat and we left the docks. They threw 2 of the fishing rods to the water and said they were fishing for bait while we were sailing. After over an hour they gave up and we got fishing line to try and catch some bait on our own.
This was we spent 5 hours, sailing between the islands looking for bait, until we caught some unfortunate small fish as bait, stopped near an island and started fishing "for real". We were disappointed when we found out that the fishing was done using the same fishing lines, and only the Thai guides used thr rods.
Around noon we docked near two islands that were connected by a stripe of white sand. We snorkeled there (with our own diving gear) and hand fed packs of fish with watermelon slices. Then the Thai guides told us that its time to go catch the big fish and we left the island.
We were disappointed again to see that what they referred to as fishing was actually trolling - meaning throwing the rods they used in the morning to the water and try to catch fish while sailing slowly. They didn't catch anything and when they saw we were not content they sailed towards a fishing boat, took some tiny fish from it as bait, and we docked again near the islands and fished with the fishing lines. Maybe as a compensation for the lame day, we kept fishing until 19:00 but it didn't have any effect on the result - in an entire day the five of us only caught a few fish (red snapper, white snapper and monk fish) which were very small (less than 150 grams).
Our conclusion is that in a similar manner to the situation in Israel, even in Thailand the sea is being emptied by the commercial fishing, and that in opposite to our expectations even in Thailand there is nothing to catch.
We returned to our room starving, showered, and went to the promenade in order to eat in a fancy restaurant. We went to an Italian restaurant called "La Luna", sat down and ordered some food and drinks. We got our drinks after a few minutes, but the food was delaying but we kept watching trays of food being sent to the upper floor where we assumed an event was taking place. After 45 minutes Tomer called the owner and mentioned to him that we were waiting for a really long time. The owner told Tomer that they were very busy, turned his back to us and left (in Israel he wouldn't have survived such an act). We called the waitress to ask her about the costs of our drinks, and as were getting organized to leave the shameless owner ran to us to make sure we pay him for the cokes we drank, and didn't even bother apologizing to us.
We went to another restaurant, good and prestige, called "Eden", but our appetite was gone and a perfectly good dinner was ruined.