Day 20 - Bangkok
We drove to the airport in the guest house owner's car. She showed us a lot of interesting places on the way such as an agricultural prison (a prison that the prisoners groom and looks like a resort), wats on tops of mountains and many other places we didn't manage visiting.
The Thai flight was comfortable as usual, and the food was good, and so was the landing - the moment we landed in Bangkok a heavy rain started pouring just like we had in Chiang Mai and Phuket after our previous flights. We picked up a place recommended by the lonely planet - "A one inn". The lonely planet said that the triple rooms were big but our room was small and packed and the shower was tiny. The big advantage of this hotel is its location - about 2 minutes walking from MBK and the discovery center. We thought about going to a different place, but the heavy rain made us stay there.
We spent a few rainy hours in the hotel, and seized the first break from the rain to go to MBK and have lunch. After almost getting lost there, we reached the food center of MBK. We liked the idea of using coupons, and the big number of food stands. It turned out to be more difficult than expected to choose what to eat, especially if you are a little picky about what you eat. We took us some dishes which were really bad - cold and tasteless. We sold back our coupons, and went to the first floor to eat some known food at McDonald's.
We spend the rest of the afternoon trying to find some gifts for the guys at home, and finished the day in the movie theater in the upper floor of MBK. The movie theater there displays new movies in English, in a brand new theater in a ridiculous price of 80 bahts a ticket. There is no break in the middle of the movie, so buying popcorn and drinks should be done before entering the theater. In movie theaters in Thailand it is a custom to stand to honor the king before the movie begins, while his pictures are shown on the screen.
Day 21 - a trip in Bangkok
As our time in Bangkok was limited (and this was a good thing) we decided to skip the trip to the floating market, and instead to have a trip in the King's castle and the important wats. We took a cab, and of course we had to insist that the driver use a meter (he requested 150 bahts, and in the end of the drive the meter showed only 80 bahts).
We began our tour in wat Po, that according to the map we got at the airport was supposed to be relatively small. The wat turned out to be bigger than expected and had a lot of impressive statues in it which we haven't seen in other places in Thailand. In addition, in wat Po you can find a giant golden buddha which is the largest in Thailand and is 46 meters long. The golden buddha is decorated with drawings made of "the mother of pearl". The large buddha is surrounded by small golden buddha statues which are in a relatively bad condition.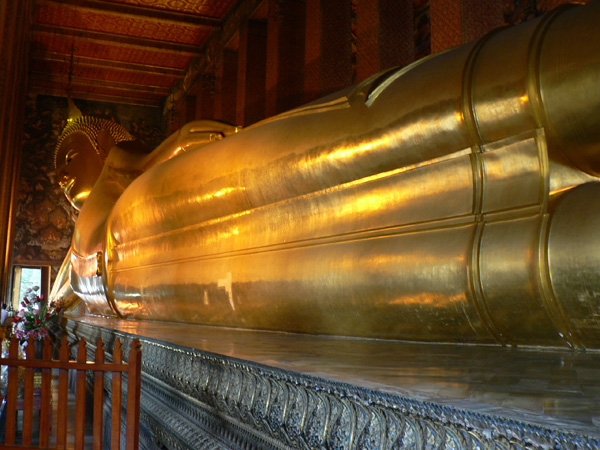 From wat Po we went to the king's castle and wat Phra Kaeo, where we found out we made a mistake and worn short sleeved pants, which were decent enough to get us into all the temples in Thailand, but not to this place. We had to borrow (for a deposit) some dirty long sleeved pants in order to enter the compound, so that in addition to the unpleasant heat of Bangkok, we also had to wander there feeling disgusted by the pants. The castle and the wat were not very impressive in our opinion after seeing all kinds of temples in Thailand (ancient in Ayutthaya, and modern golden plated in Chiang Mai). The emerald buddha turned out to be small and so far away from the visitors so that one could barely observe it. The buddha was dressed in his winter outfit, and if you wanted to see his other outfits you could buy postcards in the entrance. A few buildings in the kings castle were closed for maintenance, and surrounded with scaffolds.
Other than that we didn't find the tour in the king's castle and wat Phra Kaeo impressive, and the negative impression was emphasized by the feeling of the "rip off" atmosphere there. The entrance fee was 250 bahts which is high in Thailand scale, and wherever you had something interesting to take pictures of it was forbidden (instead you could buy postcards which cost up to three times more than postcards in Ayutthaya for example).
From there we took a tuk-tuk (a mistake, it is not like in Chiang Mai) towards china town, where we spent a few hours before returning to our room. In the evening Tomer and Oren couldn't give up buying some Durian (fruit) in the supermarket in Tokyu center. Later after tasting it, Tomer was disgusted and ran looking for coca cola to get rid of the taste, and suddenly Toon's explanations seemed reasonable - if only one kind of monkey eats the Durian, you probably shouldn't eat it also.
Later we met Sander and Jetty again in MBK where we ate a not so good dinner in "black canyon coffee" and played bowling and billiard together.
Day 22 - flying back to Israel
We woke up very early and arrived to the airport 3 hours before our flight. It turned out that the airport in Bangkok is not as active as the one in Tel Aviv, and we had to wait for an hour before the airport employees came and we began the departure process.
Since we made sure we get to the airport without extra bahts, we were unhappy to find out we still need to pay a fee of 500 bahts each. The flight to Kiev was ok, except the fact that we landed in a freezing -4 degrees celsius and a heavy fog.
The flight from Kiev to Tel Aviv was delayed for an hour because of the weather, and was peaceful until a group of Russians got drunk and made a fuss, and even clapped their hands for a successful landing even though we were a few kilometers high, and experienced nothing but an air turbulence.
We realized we were back in Israel when the train was late, and that after it finally came a few passengers almost had a fight because they have no place to sit...